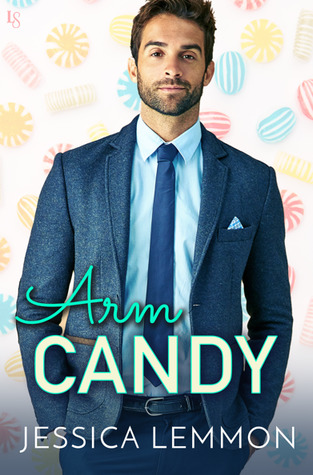 Last call! At the end of the night, a clean-cut hunk and a rebellious bartender act on their unlikely chemistry in this frisky standalone novel from the author of Eye Candy.
Davis: I've had my eye on Grace Buchanan for a while now. Unlike the bubbly blondes I usually date, the feisty, flame-haired bartender both intrigues and bewilders me. Something about Grace—the tattoos? the nose ring?—makes every part of me sit up and beg. There's only one problem: She hates me. Trading insults and one-liners has become our M.O. But when Grace bets me that I can't get a date with a non-blonde if my life depends on it, I'm determined to prove her wrong by landing the ultimate non-blonde: her.
Grace: I'm used to regulars hitting on me, and I've turned them all down, except for one: Davis Price. I like giving him a hard time, and he's kind of cute in his suit and tie—if you're into that kind of thing. Anyway, I don't care how many blondes he takes home . . . until one of them sidles up to him in my bar. Nuh-uh. But after my little bet with Davis backfires, our first date lands us in the sack. So does the second. And the third. Neither of us wants more than the best sex of our lives. The trouble is, it's not a question of what I want. It's what I need. And what I need is Davis.
Jessica Lemmon is back with the second book in the Real Love series and this is most definitely a book that you shouldn't miss.
It had me hooked from the first page to the last that I turned with a big fat grin on my face and a happy sigh. What more could you ask for?
Fair warning here, do not read this book without reading Eye Candy first. The reason I say this even though each book CAN be read as a stand-alone is because if you don't read Eye Candy, you miss the beginning of the foreplay between Davis and Grace and believe me, it's something you don't want to miss out on.
These two give new meaning to the snap and crackle of sexual chemistry. Boy are they hot. (*fans self thinking about them*) When a dare throws them together……. SNAP CRACKLE POP EXPLOSION.
I knew Davis and Grace were meant for each other when we met them in Eye Candy. Like I said, their interactions were like verbal foreplay. But when they cross the line from foreplay to more, well, that's where the story gets hotter and really interesting. They each manage to bring out a side to the other that was unexpected and adorable all at the same time.
What I didn't expect was for Davis to be the total opposite of what I thought he would be and I loved it. Davis for the surprise win!! I admit I had him pegged as a man whore but oh did he prove me wrong. Plus the way he treats his Gracie-Lou is priceless.
Speaking of Grace, I adored her and the way she brings Davis to his knees. There is just something so relatable about her that draws you in. If she was real I would totally want her as a bestie.
Together, Davis and Grace are a surprise paring that just makes sense as soon as you see them together. They really show that opposites can attract and make things work. Yes there's the obligatory heart break but it only makes the HEA that much sweeter. I loved Grace and Davis.
This is a series not to be missed, that much I can convey clearly. If you love fun, sweet, hot romances, then do not miss these books.
A former job-hopper, Jessica Lemmon resides in Ohio with her husband and rescue dog. She holds a degree in graphic design currently gathering dust in an impressive frame. When she's not writing super-sexy heroes, she can be found cooking, drawing, drinking coffee (okay, wine), and eating potato chips. She firmly believes God gifts us with talents for a purpose, and with His help, you can create the life you want.
Jessica is a social media junkie who loves to hear from readers.