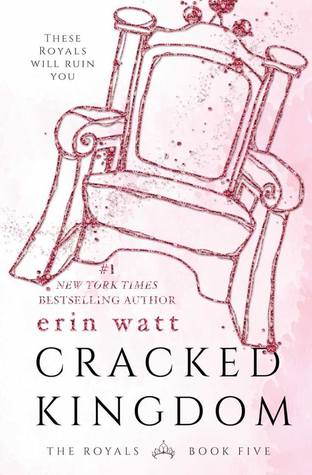 These Royals will ruin you.
Ever since Hartley Wright met Easton Royal, her life hasn't been the same. There are enemies behind every corner and dangers beyond each door. When tragedy strikes and steals her memories, she can't trust anyone, not even the blue-eyed boy who promises her that everything will be all right.
Because while Hartley's memory is full of gaps, her instincts tell her Easton is dangerous. She doesn't know if he's the snake in the garden or her chance at salvation. The chaos he brings wherever he goes is too much to handle, the intense feelings he evokes are too confusing to unravel.
Easton wants her to remember. Hartley thinks it's better to forget.
She might be right.
Tragedy. Treachery. Trust. Hartley has to face the facts—in this world, you can't escape the Royals.
Either you live by their rules or you die by them.
There is only one way to describe this book, UNFREAKING, CRACK-A -LICIOUS, PHENOMENALLY AWESOME. Sorry for the shouty caps but believe me when I say its totally justified.
Just when you thought these books could not get any better, along comes the next one which totally blows your mind. It took me days to get over this book and I'm not sure I totally have.
Yes, I've said it's good, but I don't think I can convey how good it was.  I was left in a huge book slump after I inhaled Cracked Kingdom and I don't regret a single moment. I finished it with a huge sigh and may have sat there in stunned silence for a full ten minutes trying to get my head around what I had just read.
This book picks up directly after the momentous events of Fallen Heir and the roller coaster ride continues dragging you through all the feels while you fall a little deeper in love with the characters. So much happens in this book, so very much. But through it all the Royals stand together and face all that comes as one.
I know the book has been out for a couple of weeks, but I'm still going to keep this spoiler free. I don't want to spoil one second for anyone who still has to read it. And if you haven't, do so now!
The Royals is one of those very rare series, the ones that don't come along very often so you cherish them like gold. I proud to say that I have been thoroughly ruined by these Royals and that's more than okay with me.
Paper Princess (#1)
Broken Prince (#2)
Twisted Palace (#3)
Fallen Heir (#4)
Erin Watt is the brainchild of two bestselling authors linked together through their love of great books and an addiction to writing. They share one creative imagination. Their greatest love (after their families and pets, of course)? Coming up with fun–and sometimes crazy–ideas. Their greatest fear? Breaking up.
Web Twitter  Facebook  Goodreads Amazon   Instagram