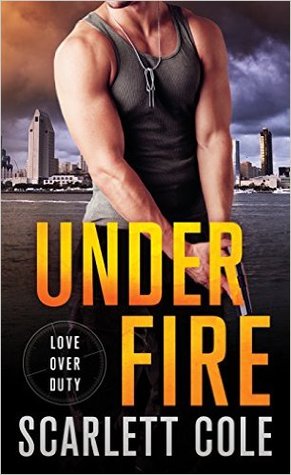 HE CAN TAKE THE HEAT.
Hot, hard-bodied Sixten Rapp is a former SEAL who's raring to begin his brand-new civilian life. He and his Navy "brothers" start a security firm that offers the kind of services only a team of military-trained professionals can provide. But nothing prepared Six for his new client: an innocent woman on a mission to improve thousands of lives. . . unless someone takes hers first.
CAN SHE HANDLE THE FLAMES?
Dr. Louisa North knows time is against her as she tries to create a "miracle" medical treatment for a disease with no known cure, until she creates a sample so powerful that the wrong people want to use it as a chemical weapon. At first, Six is unwilling to accept Louisa as his client. But soon he realizes that the danger is real and that there's much more to this plain-Jane scientist…including a burning passion between them that neither of them can resist. And now that an enemy is on Louisa's trail, Six will do whatever it takes to protect her—or die trying.
Scarlett Cole kicks off a new series in all guns blazing glory with Under Fire and after devouring this book, I can't wait for more. I loved it.
If you love romantic suspense, you better not pass this story up because you will be kicking yourself if you do.
This story grabbed my from the opening pages and sucked me in and had me glued to the pages till the very end that left me with a goofy grin, satisfied and craving the next book.
Just wait till you meet the main characters who really shouldn't go together but they do and it's so brilliantly perfect. The returned soldier and the lab geek, odd pairing right? WRONG !!!! Six and Lou are made for each other. It's not often you see characters gel so perfectly, so quick but they do and let me tell you this as soon as they meet you will be addicted to their story.
Seriously, every woman needs a hero like Sixten Rapp in their lives. He gives new meaning to perfect book boyfriend material. It's not just his looks that make him so damn fine, it's the whole package that had me swooning for him. The fact that he never judges Lou for her being her had me melting in puddle more than once. Oh and when he goes all alpha……totally gone.
I loved Louisa almost as much as Six, (I'm not kidding, Six is awesome). As someone who also suffers from chronic shyness, it was so good to see her condition in a story, but how she deals with it, while dealing with a major threat to her career and life while opening up to Six had me majorly girl crushing on her.
Throw these two together and you have major sparks and chemistry that only gets hotter the closer the threat to Lou comes and the closer they become to each other. And once that line is crossed there's no going back despite the flashback it might cause. Feelings like theirs are too strong not to fight for.
Add in Six's brothers in arms (hello hotness overload) and their new business Eagle Securities, a potential life saver gone wrong that's suddenly the wrong hands, action, suspense and of course a fantastic HEA and you have the first outing for the new Love Over Duty series that this reader hopes doesn't keep me waiting for the next book. I need it now!!!!
The tattoo across my right hip says it all really. A Life Less Ordinary. Inked by the amazingly talented Luke Wessman at the Wooster Street Social Club (a.k.a. New York Ink). Why is it important? Well, it sums up my view on life. That we should all aspire to live a life that is less boring, less predictable. Be bold, and do something amazing. I've made some crazy choices. I've been a car maker, a consultant, and even a senior executive at a large retailer running strategy. Born in England, spent time in the U.S. and Japan, before ending up in Canada where I met my own, personal hero – all six and a half feet of him. Both of us are scorpios! Yeah, I know! Should have checked the astrological signs earlier, but somehow it works for us. We have two amazing kids, who I either could never part with or could easily be convinced to sell on e-bay.
I've wanted to be a writer for a really long time. Check through my office cupboards or my computer and you'll find half written stories and character descriptions everywhere. Now I'm getting the chance to follow that dream.
I am represented by Beth Phelan at The Bent Agency, NY.
Twitter  Facebook  Web  Amazon  Goodreads  Instagram