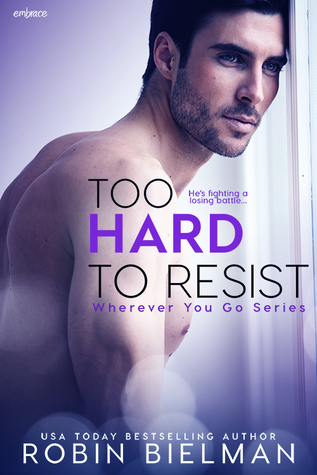 One rookie assistant + one demanding executive = flirting that is too hot to handle.
Have you ever wished for the perfect job? Me, too. So when I land a temporary gig with a worthwhile and exemplary startup, I'm determined to make it permanent. That my boss is the gorgeous, clever Elliot Sax is nothing I can't handle. We may steal glances at each other and straddle the line of playing it safe, but our partnership is too important for complications. Not to mention workplace hookups are against the rules.
But when our attraction flames hotter, our best efforts are put to the test. I never imagined having to fight my feelings for him on a daily basis and keeping my hands to myself is absolutely killing me.
Until I can't. Until we can't. And what's at stake becomes more than our jobs. What's at risk is our hearts.
The always awesome Robin Bielman is back with the newest book in the Wherever You Go series and for me, this is hand down my favourite of them all. I loved this book, plain and simple.
As a reader, I know before even starting this a book from this author that I'm in for a treat. So, imagine my glee when I immediately started to fall for this couple from the opening pages that had me alternating between chuckling and awing. It could only suck me in further from there right? Well it certainly did.
There was just something about Elliott and Maddison that hit all the right romantic buttons with me. Smoking hot chemistry, tick, flirty banter, tick, working together so technically off limits, tick, friends in common, tick, developing feelings when they really shouldn't, tick. This is like romance crack to me and THIS couple, oh this couple had me well and truly hooked.
Watching Elliott and Maddison dance around their growing attraction was so much fun to read. It was the back and forth of will they or won't they that had me turning the pages faster and faster to see when they would cross the line. I say when because an attraction as strong as theirs wasn't going to be ignored and when that line is crossed, HOT, HOT, HOT and so worth the build up.
In true romance style the HEA doesn't come easily, but I loved seeing them realise how much they mean to each other and of course Elliott's grovel had me grinning like a loon. Loved it.
For those who have read the series, you will see the previous characters as well as find a couple new ones to adore. One, who I have my fingers crossed gets her own book. Hint, hint.
I loved this story and hope you do too because it reminds me that sometimes you need to take a risk and see where it leads you.
When not attached to her laptop, USA Today Bestselling Author Robin Bielman can almost always be found with her nose in a book. A California girl, the beach is her favorite place for fun and inspiration. Her fondness for swoon-worthy heroes who flirt and stumble upon the girl they can't live without jumpstarts most of her story ideas.
She loves to go on adventures, and has skydived, scuba dived, parasailed, gotten lost in the wilderness (and only suffered a gazillion bug bites for it) hiked to waterfalls, and swam with dolphins. In her spare time she also likes to put her treadmill to good use while watching her favorite TV shows, take hikes with her hubby, indulge her sweet tooth, and play sock tug of war with her cute, but sometimes naughty dog, Harry.
She dreams of traveling to faraway places and loves to connect with readers. Keep in touch and sign up for her newsletter on her website at http://robinbielman.com