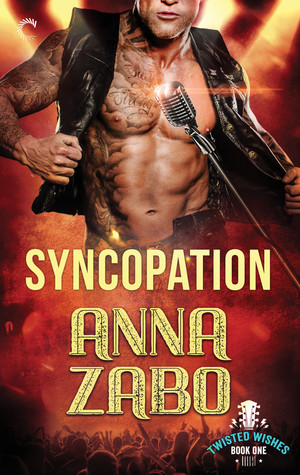 There's no resisting the thrum of temptation in this male/male rock-star romance from genre-favorite author Anna Zabo!
Twisted Wishes front man Ray Van Zeller is in one hell of a tight spot. After a heated confrontation with his bandmate goes viral, Ray is hit with a PR nightmare the fledgling band so doesn't need. But his problems only multiply when they snag a talented new drummer—insufferably sexy Zavier Demos, the high school crush Ray barely survived.
Zavier's kept a casual eye on Twisted Wishes for years, and lately, he likes what he sees. What he doesn't like is how out of control Ray seems—something Zavier's aching to correct after their first pulse-pounding encounter. If Ray's up for the challenge.
Despite the prospect of a glorious sexual encore, Ray is reluctant to trust Zavier with his band—or his heart. And Zavier has always had big dreams; this gig was supposed to be temporary. But touring together has opened their eyes to new passions and new possibilities, making them rethink their commitments, both to the band and to each other.
With the world lifted off his shoulder and music in his veins, Ray was a sight to behold. Zavier would certainly do his part to keep him like that—and relish every moment, breath, and moan doing so.
After the sound check, they headed back to the lounge and dressing rooms. Dom ducked out to the bus for his book and Mish was hanging out with the crew, which left him and Ray alone as they made their way to the dressing rooms. Ray gave him a look that was sly and full of teeth, and slipped into one of the rooms. Well now, someone wanted a little action. Zavier followed and shut the door.
Ray leaned up against the vanity on the far side of the room. "I figured we had a few moments by ourselves."
"So we do. Which makes me wonder why you're over there and not kneeling at my feet." Zavier pointed to the floor in front of him.
A lovely blush crept up Ray's neck, and he was across the room and on his knees in an instant.
Good. While they'd set ground rules, they hadn't talked about how they'd start scenes, especially given the limited time and privacy they had. Zavier ran his fingers through Ray's hair. "You can always kneel if you want to play, Ray. Or ask me to fuck you, or however you wish. But if you don't want to, simply say 'red' and I'll back off."
"Safeword for even starting?" He looked up. "I'm saying yes now."
Indeed, he was. Large pupils. Slight trembles. All that lovely tension. "I don't want to be manhandling you and pressing you against a wall if that's not your thing. Consent is sexy."
Ray smiled. "That—I want that. Yeah, maybe not always, but I promise I'll tell you if it's too much. Or the wrong time. But please, please, surprise me. I need—" He took a breath. "I want to surrender. Make me."
Oh, that was just too good to pass up. He tightened his hand in Ray's hair. "You remember how I taught you to touch yourself?"
No nodding—his hand was too tight in Ray's hair. "Yeah. I remember."
"Get your dick out and show me. Slowly."
He didn't loosen his hold in Ray's hair, but Ray obeyed—and nearly perfectly, too. Took that hard cock out of his pants and into his hand and stroked its length so slowly. Teased the head. Pressed into the slit. Twisted and slid.
He panted. "Can I touch my balls?"
"Yes."
Such a show at his feet. Ray, his eyes closed, his mouth open, jacking himself off. Fondling his nuts. If they didn't have a show in a few hours, Zavier would have whipped out his own dick and fucked Ray's mouth.
Ray hissed. "Fuck." Oh, he was close. Tempting to let him come, but even more to let him dance on stage and sing unsatisfied.
"Stop."
Ray flicked his eyes opened and sighed, but he stopped. And that was lovely, too. The obedience. "You're gonna make me wait."
"As I said before." Zavier stepped in and pressed his hard length against Ray's face. "And you're still not alone in that."
Amazon  Nook  iBooks  Kobo  Google
Anna Zabo writes contemporary and paranormal romance for all colors of the rainbow. They live and work in Pittsburgh, Pennsylvania, which isn't nearly as boring as most people think.
Anna grew up in the wilds of suburban Philadelphia before returning to their ancestral homelands in Western Pennsylvania. As a child they were heartily disappointed to discover that they couldn't grow up to be what they wanted (a boy, a cat, a dragon), so they settled on being themself whenever possible, which may be a combination of a boy, a cat, and a dragon. Or perhaps a girl, a knight, and a writer. Depends on whom you ask. They do have a penchant for colorful ties and may be hording a small collection of cufflinks.They can be easily plied with coffee.
Anna has an MFA in Writing Popular Fiction from Seton Hill University, where they fell in with a roving band of romance writers and never looked back. They also have a BA in Creative Writing from Carnegie Mellon University.
Connect with Anna Zabo:
Twitter | Facebook Group | Instagram | Website | Goodreads | Facebook Page | Newsletter