College junior John Logan can get any girl he wants. For this hockey star, life is a parade of parties and hook-ups, but behind his killer grins and easy-going charm, he hides growing despair about the dead-end road he'll be forced to walk after graduation. A sexy encounter with freshman Grace Ivers is just the distraction he needs, but when a thoughtless mistake pushes her away, Logan plans to spend his final year proving to her that he's worth a second chance.
Now he's going to need to up his game…
After a less than stellar freshman year, Grace is back at Briar University, older, wiser, and so over the arrogant hockey player she nearly handed her V-card to. She's not a charity case, and she's not the quiet butterfly she was when they first hooked up. If Logan expects her to roll over and beg like all his other puck bunnies, he can think again. He wants her back? He'll have to work for it. This time around, she'll be the one in the driver's seat…and she plans on driving him wild.
The SubClub are really excited (insert fan-girl squeal here) to share this exclusive excerpt with you.
Tucker is noticeably quiet during the drive to Omega Phi. He might also be frowning, but it's hard to tell considering someone shaved off all of Hugh Jackman's body hair and pasted it on Tuck's face.
"What's with the silent treatment?" I ask lightly.
His gaze shifts toward me to offer a sour look, then shifts right back to the road.
"Oh, come on. Is this about all the shit we're giving you about the beard?" Exasperation shoots through me. "Because that's like the first chapter of Beards for Dummies, bro—if you grow a mountain man beard, your friends will make fun of you. End of chapter."
"It's not about the beard," he mutters.
I wrinkle my forehead. "Okay. But you are pissed about something." When he doesn't respond, I push a little harder. "What's going on with you?"
His annoyed eyes meet mine. "With me? Nothing. With you? So much I don't even know where to start." He curses softly. "You need to stop this shit, man."
Now I'm genuinely confused, because as far as I can tell, all I've done in the past ten minutes is look forward to a party.
Tucker notices the confusion on my face and clarifies in a grim tone. "This thing with Hannah."
Although my shoulders stiffen, I try to keep my expression vague. "I have no idea what you're talking about."
Yup, I've chosen to lie. Which is nothing new for me, actually. It seems like all I've done since I came to Briar is lie.
I'm totally destined for the NHL. Going pro all the way!
I love spending my summer as a grease monkey in my dad's shop. It's great pocket money!
I'm not lusting over Hannah. She's dating my best friend!
Lies, lies and more lies, because in every one of those instances, the truth is a total bummer, and the last thing I want is for my friends and teammates to feel sorry for me.
"Save that bullshit for G," Tucker retorts. "And by the way? You're lucky he's distracted with all this lovey-dovey stuff, because if he wasn't? He'd definitely notice the way you're acting."
"Yeah, and what way is that?" I can't stop the edge in my voice or the defensive set of my jaw. I hate that Tuck knows I have feelings for Hannah. I hate even more that he finally decided to bring up the subject after all these months. Why can't he leave it alone? The situation is already shitty enough without having someone call me on it.
"Seriously? Do you want me to list it off for you? Fine." A dark cloud floats through his eyes as he begins to recite every fucking thing I've felt so guilty about. "You leave the room whenever the two of them enter it. You hide in your bedroom when she stays over. If you guys are in the same room, you stare at her when you think nobody is looking. You—"
"Okay," I interrupt. "I get it."
"And don't get me started on your manwhoring," Tucker grumbles. "You've always been a player, but dude, you've hooked up with five chicks this week."
"So?"
"So it's Thursday. Five girls in four days. Do the fucking math, John."
Oh shit. He first-named me. Tucker only calls me John when I've really pissed him off.
Except now he's pissed me off, so I first-name him right back. "What's wrong with that, John?"
Yup, we're both John. I guess we should take a blood oath and form a club or something.
"I'm twenty-one years old," I continue irritably. "I'm allowed to hook up. No, I should be hooking up, because that's what college is all about. Having fun and getting laid and enjoying the fuck out of yourself before you go out in the real world and your life turns to shit."
"You really want to pretend all these hook-ups are just some rite of passage in the college experience?" Tucker shakes his head, then lets out a breath and softens his tone. "You can't screw her out of your system, man. You could sleep with a hundred women tonight and it still wouldn't make a difference. You need to accept that it's not going to happen with Hannah, and move on."
He's absolutely right. I'm well aware that I've been wallowing in my own bullshit and bagging chicks left and right as a distraction.
And I'm equally aware that I need to stop partying myself into oblivion. That I need to let go of the tiny little sliver of hope that something might happen, and simply accept that it won't.
Maybe I'll get started on that tomorrow, though.
THIS BOOK IS FLIPPING AMAZING, RUN DON'T WALK AND GET A COPY TODAY!!!!
Are you listening? Because you REALLY need to read this book. I absolutely loved this book. I devoured this story and am seriously fighting the urge to pick it back up and start it again already. It's that damn good. I'm not kidding, five minutes after I finished it, I picked it up again and had to force myself not to re-start it.
The first book The Deal knocked my socks off and this one absolutely blew me away. To say that I loved this story is way too much of an understatement Yes I know I'm repeating myself but I LOVED THIS BOOK. I fell for Logan and Grace completely. I inhaled the book and kept going back and re-reading parts because I enjoyed them so much.
Grace and Logan have become one of my favourite couples. From their accidental meet where their friendship and first hook up starts to their eventual relationship, they never quite did what you expected and I loved that. You would never think that jock Logan with a reputation for casual hook-ups and quiet virgin freshman Grace would fit together but they do. They really do and it's so much fun to watch them fall.
"So you're not attracted to me at all anymore?" I don't answer. I can't answer. Desire has clogged my throat. "Because I'm still attracted to you." Heavy-lidded eyes rake over my body. "If anything, I think I want you even more."
It's not all hook ups, parties and action movies though. These two will drag your emotions all over the place. Logan especially as he knows what his life will be after college and it's not playing hockey. Add in Grace and her drama with her supposed best friend and you will be wanting to hug them both just like I did. Damn them just being fictional characters!
I need you. I can't stand the thought of being without you." He releases a shaky breath. "You're the last person I think about before I go to sleep, and the first person I think about when I open my eyes in the morning. You're it for me, baby."
One of my favourite things about the storyline is how it changes direction after the MISTAKE. An epic one on Logan's behalf yes. But it actually makes the characters even more lovable. You get to see their regrets, changes and determination, all evolve so when they meet up again after the summer it's perfect that they act the way they do.
To say Logan in wooing mode isn't hot is just wrong. Yes he made the mistake and has to crawl back to Grace who has come back to Briar not only a sophomore but stronger than before. When she issues Logan a list of romantic things he has to do in order to get a date…..brilliant. Just wait for the poem and his friends reactions. Priceless. I had tears from laughing so hard.
"Then get on the bed. Naked. Now. Bonus orgasms for speed." She gets rid of her top, leggings and panties in record time, and I snicker as I reach for my zipper. "Jeez, one would think I haven't been meeting your needs."
If I wasn't already in love with Logan before that, I would be after. He leaves no stone unturned in his attempt to get Grace back and it is both hilarious and really touching. But it's what he does after he gets her back that melts my heart. His patience is just aww.
Of course it wouldn't be a romance novel if you didn't get a bit of will they or won't they last angst and while we get it we also get the added bonus of a touching grovel form Logan, always my favourite part of the book.
"You're the only one I see tonight, the only one I see ever."
Add in the ending that will leave you grinning and you will understand why I loved this book so much. I have forgotten to mention that Garrett and Hannah make lots of appearances and the other guys in the shared house pop up too and when they do it usually leads to giggles and guffaws. Man I love these guys together.
I've said how much I loved this book and it's all true. I may have squealed like a banshee when this book popped up in my inbox. I adored the first book and this one gave me the same feeling. Books like these don't come along very often, the ones you want to immediately re-read, but The Mistake and The Deal are both it for this reader and I can't wait for more.
---
Twitter ♦  Facebook ♦  Web  ♦  Goodreads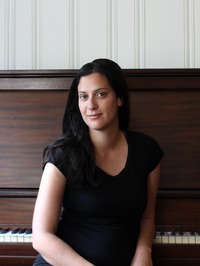 A USA Today bestselling author, Elle Kennedy grew up in the suburbs of Toronto, Ontario, and holds a B.A. in English from York University. From an early age, she knew she wanted to be a writer, and actively began pursuing that dream when she was a teenager.
Elle currently writes for various publishers. She loves strong heroines and sexy alpha heroes, and just enough heat and danger to keep things interesting!